Our van drivers transport children to Adams, Chestnut Hill, Plymouth, Siebert, and Woodcrest Elementary during the school year. We are also open and available for drop-in care whenever Midland Public Schools is closed (planned and unplanned days off). During the summer, our school-age children enjoy weekly field trips, special guests, cooking activities, science experiments, and so much more! The children in this program enjoy networking with friends from other schools and former preschool classmates.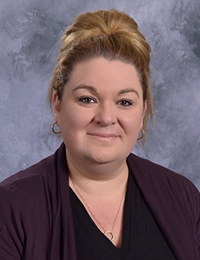 Genell Prather,
sCool Age Lead Teacher
Genelle has been with Heaven's Elect since 2016. With her years spent working with our school-age children, she adheres to the rule, "embrace the madness." Firmly believing that children should be allowed to make messes and be loud, she also acknowledges that children need to be responsible for themselves. Genelle is confident that our school-age children can have the best of both worlds when teachers set clear limits and keep the rules simple, fair, and consistent. After all, isn't having fun part of being a child?
When her son was younger, Genell enjoyed being a stay-at-home mom and volunteered her spare time working in his elementary school. Her favorite time spent in the classroom was reading to the children, planning room parties, and supervising field trips.
When she's not running our sCool Age children to and from their elementary school or volunteering as a "team mom" at MHS, she relishes spending time relaxing in the sun, camping, baking, crafting, and enjoying family time with her husband and son.
ENROLL YOUR CHILD FOR 2021-2022